Pipelines Slowly Returning Cash
2020 should be the year in which pipeline companies deliver on the promised increase in Free Cash Flow (FCF). The Coming Pipeline Cash Gusher remains the strongest bull case for midstream energy infrastructure. We'll be updating these projections once companies provide updated 2020 guidance on spending in the next few weeks.
A trend towards returning more cash to investors is taking hold though. EnLink (ENLC) announced their much-anticipated distribution cut along with higher projected FCF (see EnLink Aims for Positive Free Cash Flow). Unusually, the stock firmed up following the announcement, showing that investors are looking past dividend yield as a source of valuation.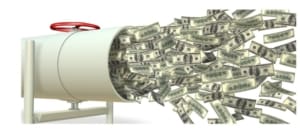 Yesterday morning Magellan Midstream Partners (MMP) announced a $750MM stock buyback along with the sale of three marine terminals to Buckeye Partners (BPL) for $250MM. MMP now joins Enterprise Products (EPD) and Kinder Morgan (KMI) in having a buyback program. These used to be extremely rare for MLPs. EPD and MMP are among the few that have operated reliably in recent years, with disciplined capital allocation and continuously increasing distributions. The U.S. pipeline business would be better if it was run by Canadians (see Canadian Pipelines Lead The Way). However, EPD and MMP are run as if they're Canadian, which is about the highest praise one can offer nowadays.
Although growth projects are broadly commanding less cash flow than in the past, TC Energy (TRP) is likely to be a big exception this year. Last week they announced that work on the phenomenally delayed Keystone XL pipeline will resume next month, and a 1.2 mile segment crossing the U.S.-Canada border is scheduled for April.
Canada badly needs additional pipeline capacity to move its crude oil to market (see Canada's Failing Energy Strategy). It has been delayed more than a decade, much of it under the Obama administration. The 830,000 barrels per day of added capacity will provide a welcome lift to prices for oil producers in Alberta. We currently estimate TRP will invest over $4BN on this and other expansion projects this year in addition to over $1BN on recoverable maintenance expenditures (mostly pipeline integrity). Along with Enbridge (ENB) and Energy Transfer (ET) these three will likely be the biggest spenders once 2020 capex guidance is revised.
KMI will kick off pipeline earnings later today.
We are invested in ENB, ENLC, EPD, ET, MMP and KMI
https://sl-advisors.com/wp-content/uploads/2013/04/logo1.jpg
0
0
Simon Lack
https://sl-advisors.com/wp-content/uploads/2013/04/logo1.jpg
Simon Lack
2020-01-22 06:00:05
2020-01-21 16:03:37
Pipelines Slowly Returning Cash