Review Of Russell Gold's Superpower
Five years ago Russell Gold published The Boom: How Fracking Ignited the American Energy Revolution and Changed the World, one of several books that chronicled the Shale Revolution. Gold provided first-hand descriptions of fracking after persuading Marathon Oil to let him visit a site in North Dakota. He offers a fascinating description of the process that has transformed America's energy production. We reviewed his book here. Gold displays his green credentials as he wrestles with the tradeoffs he perceives between abundant natural gas and the renewables growth it impedes. But on balance, he concludes that Shale has been good for America.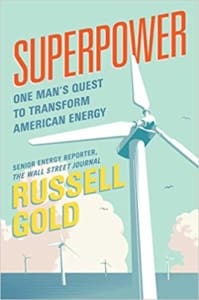 Russell Gold's latest book, Superpower: One Man's Quest to Transform American Energy seems at first to challenge the supremacy of the Shale Revolution and America's energy renaissance. It follows Michael Skelly in his quest to harness wind power across the south eastern U.S. to provide electricity.
Gold recounts the early use of electricity, back in 1881 when J. P. Morgan's New York townhouse was one of the first installations. The house was lit every day at 4pm, powered by a coal-burning steam generator whose noise and smoke upset the neighbors.
Highlighting the advantages of wind power may have been Gold's intent, but after following Michael's Skelly's frustrating and ultimately unsuccessful attempt to transform power generation, this reader found the challenges more substantial than the opportunity.
The impediments Michael Skelly encountered were not technical. Texas produces a quarter of America's wind powered electricity. On March 17, 2017 50% of all the electricity used in Texas came from wind. Renewables such as solar and wind suffer from intermittency (i.e. it's not always sunny and windy). This can play havoc with grids juggling multiple sources of power. But ERCOT, the grid that covers Texas, has figured out how to maintain consistent power while allowing wind to increase its share beyond what many thought possible.
Size brings economies of scale, but with it comes concentrated power generation in wind areas with delivery over hundreds of miles of high voltage lines to those than need it. Skelly's vision was to invest in extensive, large windmills that would sell their power across several states. But erecting huge electricity pylons to connect with users generated local opposition that often proved insurmountable.
Michael Skelly's company, Clean Line, applied to Arkansas to operate as a public utility, since his fledgling company needed to build power lines linking Oklahoma and Tennessee. Back in 1935, Arkansas Power had been granted a monopoly by the state in return for building out the state's grid.
It was a cleverly designed Catch 22 type regulatory structure designed by then-CEO of Arkansas Power, Harvey Couch – in order to be granted a public utility license, a company had to be a utility "owning or operating" power equipment serving customers. But you couldn't be a utility without first having customers. The legislation had never contemplated the entry of a new company into the state's power business. Nonetheless, the Public Service Commission denied Clean Line a license. The beneficiary was Entergy Arkansas, a descendent of Arkansas Power.
Clean Line's frustration in Arkansas showed the fragmented nature of the U.S. electricity grid. Although it operates as three regions covering the eastern U.S., western U.S. and Texas, in reality each state approves local construction. Utilities in Oklahoma opposed Clean Line's plans to construct transmission lines across the state, relying on a similar statute.  Whereas the Federal Energy Regulatory Commission oversees inter-state pipelines, there is no equivalent Federal agency responsible for inter-state transmission lines.
Political opposition arose in surprising places. Tennessee senator Lamar Alexander, who might have been expected to favor clean, cheap wind power for his state, instead came out publicly against the "…giant fifty-story wind turbines that they want to string along the Appalachian mountaintops…" Alexander had also opposed offshore wind turbines that threatened the view from his home in Nantucket.
Superpower sets out to show that technology exists, and that entrenched interests are the only barrier to far greater use of wind power. This glass half full interpretation sits alongside the half empty one – large scale construction of wind turbines and the high voltage power lines to connect windy, remote regions with population centers faces endless NIMBY opposition and barriers from entrenched interests. Arkansas didn't care to allow power lines moving clean energy across its state with little in-state benefit. Wind power clearly works, as Texas has shown, and will continue to grow. Despite passionate employees, hundreds of millions of dollars and a decade of work a single HVDC line couldn't even connect economic wind power from Oklahoma to Tennessee. The institutional barriers, large required investment in physical infrastructure and local opposition mean a national grid is unlikely to replicate the U.S. pipeline system anytime soon.
Superpower is an absorbing read, and well worthwhile to anyone interested in the development of renewal energy.
Important Disclosures
The information provided is for informational purposes only and investors should determine for themselves whether a particular service, security or product is suitable for their investment needs. The information contained herein is not complete, may not be current, is subject to change, and is subject to, and qualified in its entirety by, the more complete disclosures, risk factors and other terms that are contained in the disclosure, prospectus, and offering. Certain information herein has been obtained from third party sources and, although believed to be reliable, has not been independently verified and its accuracy or completeness cannot be guaranteed. No representation is made with respect to the accuracy, completeness or timeliness of this information. Nothing provided on this site constitutes tax advice. Individuals should seek the advice of their own tax advisor for specific information regarding tax consequences of investments. Investments in securities entail risk and are not suitable for all investors. This site is not a recommendation nor an offer to sell (or solicitation of an offer to buy) securities in the United States or in any other jurisdiction.
References to indexes and benchmarks are hypothetical illustrations of aggregate returns and do not reflect the performance of any actual investment. Investors cannot invest in an index and do not reflect the deduction of the advisor's fees or other trading expenses. There can be no assurance that current investments will be profitable. Actual realized returns will depend on, among other factors, the value of assets and market conditions at the time of disposition, any related transaction costs, and the timing of the purchase. Indexes and benchmarks may not directly correlate or only partially relate to portfolios managed by SL Advisors as they have different underlying investments and may use different strategies or have different objectives than portfolios managed by SL Advisors (e.g. The Alerian index is a group MLP securities in the oil and gas industries. Portfolios may not include the same investments that are included in the Alerian Index. The S & P Index does not directly relate to investment strategies managed by SL Advisers.)
This site may contain forward-looking statements relating to the objectives, opportunities, and the future performance of the U.S. market generally. Forward-looking statements may be identified by the use of such words as; "believe," "expect," "anticipate," "should," "planned," "estimated," "potential" and other similar terms. Examples of forward-looking statements include, but are not limited to, estimates with respect to financial condition, results of operations, and success or lack of success of any particular investment strategy. All are subject to various factors, including, but not limited to general and local economic conditions, changing levels of competition within certain industries and markets, changes in interest rates, changes in legislation or regulation, and other economic, competitive, governmental, regulatory and technological factors affecting a portfolio's operations that could cause actual results to differ materially from projected results. Such statements are forward-looking in nature and involves a number of known and unknown risks, uncertainties and other factors, and accordingly, actual results may differ materially from those reflected or contemplated in such forward-looking statements. Prospective investors are cautioned not to place undue reliance on any forward-looking statements or examples. None of SL Advisors LLC or any of its affiliates or principals nor any other individual or entity assumes any obligation to update any forward-looking statements as a result of new information, subsequent events or any other circumstances. All statements made herein speak only as of the date that they were made. r
Certain hyperlinks or referenced websites on the Site, if any, are for your convenience and forward you to third parties' websites, which generally are recognized by their top level domain name. Any descriptions of, references to, or links to other products, publications or services does not constitute an endorsement, authorization, sponsorship by or affiliation with SL Advisors LLC with respect to any linked site or its sponsor, unless expressly stated by SL Advisors LLC. Any such information, products or sites have not necessarily been reviewed by SL Advisors LLC and are provided or maintained by third parties over whom SL Advisors LLC exercise no control. SL Advisors LLC expressly disclaim any responsibility for the content, the accuracy of the information, and/or quality of products or services provided by or advertised on these third-party sites.
All investment strategies have the potential for profit or loss. Different types of investments involve varying degrees of risk, and there can be no assurance that any specific investment will be suitable or profitable for a client's investment portfolio.
Past performance of the American Energy Independence Index is not indicative of future returns.
https://sl-advisors.com/wp-content/uploads/2013/04/logo1.jpg
0
0
Simon Lack
https://sl-advisors.com/wp-content/uploads/2013/04/logo1.jpg
Simon Lack
2019-10-06 06:00:09
2019-10-06 06:53:36
Review Of Russell Gold's Superpower