Tromso, Norway, sits 215 miles inside the Arctic Circle. It is one of the planet's most northerly human settlements. Around January 25th at lunchtime, its inhabitants drop what they're doing and gather outside for their first glimpse of the sun in two months. It's only visible for four minutes, but the first natural shadows after interminable darkness are a welcome confirmation of Spring's approach. One resident told a visitor, "If you haven't lived through a winter like ours you can't imagine what it's like."
This Fall our church welcomed a new rector. He's English, which allows us to discuss Premier League football at a depth inaccessible to other congregants. His beautifully written sermons are delivered with humor and grace. A recent homily opened with Tromso's dawn, and led to a discussion of maintaining religious faith during spiritual darkness. I hope our rector isn't disappointed that for me, emerging from Tromso's dark winter also evoked the secular feelings of an MLP investor maintaining conviction in the profitable path to American Energy Independence. If you haven't lived through a bear market in energy when stocks are making new highs all year, you can't imagine what it's like. Sunlight can't be far away. Even in Tromso, winter ends.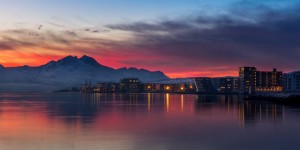 At their darkest, MLP fund outflows during 4Q17 were comparable to the worst of late 2015 and drove valuations relentlessly lower, creating a negative feedback loop. As income-seeking investors left the sector (see The Changing MLP Investor), the consequent selling has tested the conviction of others. Some just gave up – the relentless slipping of prices during a rip-roaring bull market in almost everything has eroded the confidence of many.
However, it's looking as if December may be the dawn for battered energy infrastructure investors, with the late-year seasonal pattern once again playing out (see November MLP Fund Flows Overwhelm Fundamentals). The most recent data shows that the fund outflows have virtually finished. Taxes are probably the catalyst. In November (often the weakest month), uncertainty about what the GOP tax bill would ultimately mean for MLPs further damaged already fragile sentiment. Bloomberg's  The Senate Tax Plan Sets a Trapdoor for MLPs in late November epitomized the concerns some had about adverse tax changes.
Tax-loss selling has been another big influence. Most investors have realized gains this year and selling energy losers offers a way to reduce taxable gains. Moreover, winners are more plentiful than losers, leaving investors with few places to find losses other than among their energy infrastructure holdings.
But taxes also provided support more recently, because the final legislation was beneficial to MLPs. The tax-deferred portion of distributions is typically taxed at ordinary income rates, but that will now benefit from the 20% discount for pass-through businesses. There was some further good news for General Partners (GPs), in that Incentive Distribution Rights payments will also receive preferential pass-through treatment rather than being taxed as ordinary income. In spite of initial concerns, given a few days to assess the final bill it's clear it provides a welcome boost to the after-tax income of both MLP and GP investors. Bloomberg's trapdoor wasn't triggered. The table below reflects the final legislation passed by Congress last week.
The American Energy Independence Index (AEITR) is +4.5% so far in December. After a torrid few months, MLP returns are improving. Although the sector is still negative for the year, the AEITR has bounced +7.3% since the late November Bloomberg story mentioned above. For investors, it just might signal the start of sunny days once more.
Important Disclosures
The information provided is for informational purposes only and investors should determine for themselves whether a particular service, security or product is suitable for their investment needs. The information contained herein is not complete, may not be current, is subject to change, and is subject to, and qualified in its entirety by, the more complete disclosures, risk factors and other terms that are contained in the disclosure, prospectus, and offering. Certain information herein has been obtained from third party sources and, although believed to be reliable, has not been independently verified and its accuracy or completeness cannot be guaranteed. No representation is made with respect to the accuracy, completeness or timeliness of this information. Nothing provided on this site constitutes tax advice. Individuals should seek the advice of their own tax advisor for specific information regarding tax consequences of investments. Investments in securities entail risk and are not suitable for all investors. This site is not a recommendation nor an offer to sell (or solicitation of an offer to buy) securities in the United States or in any other jurisdiction.
References to indexes and benchmarks are hypothetical illustrations of aggregate returns and do not reflect the performance of any actual investment. Investors cannot invest in an index and do not reflect the deduction of the advisor's fees or other trading expenses. There can be no assurance that current investments will be profitable. Actual realized returns will depend on, among other factors, the value of assets and market conditions at the time of disposition, any related transaction costs, and the timing of the purchase. Indexes and benchmarks may not directly correlate or only partially relate to portfolios managed by SL Advisors as they have different underlying investments and may use different strategies or have different objectives than portfolios managed by SL Advisors (e.g. The Alerian index is a group MLP securities in the oil and gas industries. Portfolios may not include the same investments that are included in the Alerian Index. The S & P Index does not directly relate to investment strategies managed by SL Advisers.)
This site may contain forward-looking statements relating to the objectives, opportunities, and the future performance of the U.S. market generally. Forward-looking statements may be identified by the use of such words as; "believe," "expect," "anticipate," "should," "planned," "estimated," "potential" and other similar terms. Examples of forward-looking statements include, but are not limited to, estimates with respect to financial condition, results of operations, and success or lack of success of any particular investment strategy. All are subject to various factors, including, but not limited to general and local economic conditions, changing levels of competition within certain industries and markets, changes in interest rates, changes in legislation or regulation, and other economic, competitive, governmental, regulatory and technological factors affecting a portfolio's operations that could cause actual results to differ materially from projected results. Such statements are forward-looking in nature and involves a number of known and unknown risks, uncertainties and other factors, and accordingly, actual results may differ materially from those reflected or contemplated in such forward-looking statements. Prospective investors are cautioned not to place undue reliance on any forward-looking statements or examples. None of SL Advisors LLC or any of its affiliates or principals nor any other individual or entity assumes any obligation to update any forward-looking statements as a result of new information, subsequent events or any other circumstances. All statements made herein speak only as of the date that they were made. r
Certain hyperlinks or referenced websites on the Site, if any, are for your convenience and forward you to third parties' websites, which generally are recognized by their top level domain name. Any descriptions of, references to, or links to other products, publications or services does not constitute an endorsement, authorization, sponsorship by or affiliation with SL Advisors LLC with respect to any linked site or its sponsor, unless expressly stated by SL Advisors LLC. Any such information, products or sites have not necessarily been reviewed by SL Advisors LLC and are provided or maintained by third parties over whom SL Advisors LLC exercise no control. SL Advisors LLC expressly disclaim any responsibility for the content, the accuracy of the information, and/or quality of products or services provided by or advertised on these third-party sites.
All investment strategies have the potential for profit or loss. Different types of investments involve varying degrees of risk, and there can be no assurance that any specific investment will be suitable or profitable for a client's investment portfolio.
Past performance of the American Energy Independence Index is not indicative of future returns.
https://sl-advisors.com/wp-content/uploads/2013/04/logo1.jpg
0
0
Simon Lack
https://sl-advisors.com/wp-content/uploads/2013/04/logo1.jpg
Simon Lack
2017-12-24 07:00:46
2018-05-03 17:33:33
MLPs Glimpse Daylight