Controlling Assets Without Buying Them
On Tuesday morning, Enbridge (ENB) and Spectra (SE) revealed how they'd spent the Labor Day weekend by announcing their merger. After the highly contentious and ultimately unconsummated Energy Transfer/Williams soap opera, it was a welcome surprise to see two large energy companies join their businesses agreeably, without rancor.
Although the financial media excitedly covered the union, investors in the Master Limited Partnerships (MLPs) controlled by ENB and SE might well have wondered what's in it for them. In another demonstration that the General Partner (GP) is where the action is, their long list of affiliated MLPs enjoyed only muted revaluation at best. The combined ENB/SE will control (among others) Spectra Energy Partners (SEP), Enbridge Energy Partners (EEP) and Midcoast Energy Partners (MEP). Yet since control of the MLP lies with the GP rather than the Limited Partners (LPs), there was no need to acquire the MLPs.
Not only did SEP investors not see a bump in their stock price, but SEP's price fell as the market reflected its greater use as a source of funding for the $26BN combined capex program scheduled 2017-19. One of the MLPs, EEP, has a cap on its Incentive Distribution Rights (IDRs, the fees paid to the GP) of only half the limit set for SEP. This makes it potentially attractive for EEP to be rolled up into SEP where the more generous SEP IDR structure would apply to its cashflows. GPs always have options.
Suppose two big hedge fund managers merged. To avoid any confusion we'll use fictitious names of two already successful firms, Masters of the Universe ("Masters") and Kings of the Cosmos ("Kings"). The owners of Masters and Kings would rightly celebrate, since they anticipate many operating efficiencies as well as synergies by working more closely together. Clients of the hedge funds run by Masters and Kings would gamely cheer the union as well, reasoning that a good financial event for the stewards of their capital surely couldn't actually be bad for the clients, even if no objective evidence supports such warm feelings. Principals from Masters and Kings would reach out to significant clients and explain their new growth strategy as "win-win", "good for all concerned" and "driven by partnership philosophy."  In fact, a good rule as an investor is to recognize that when a money manager refers to his clients as "partners" (think hedge funds and private equity) the fees look less partner-like and more wealth-transfer-like.
Masters and Kings will use their now larger aggregate Assets under Management (AUM) to grow their investment strategies to the limits of their capacity and beyond. They'll rely on the Large Size = Highly Successful = Defensible Decision thought process of new investors and their consultants. The original clients' misplaced earlier happiness is rewarded with lower returns.
It's not a perfect analogy. MLP investors are generally treated far better by MLP GPs than are hedge fund and private equity clients. And hedge fund managers rarely merge, although size and performance reliably follow opposite paths.  But the ENB/SE merger is about synergies, faster cashflow growth and stability from diversification. The affiliated MLPs' main purpose in life is to provide cheap capital to support the GP's growth plans. A skillful GP generates MLP returns just sufficiently attractive to keep investors returning, but anything in excess is wasteful. When an MLP yield falls from, say, 7% to 5%, the corresponding strong price performance cheers its investors. However, to the GP the resulting low yield on its MLP creates an imperative to cash in by issuing equity cheaply to fund more growth. A GP who allows the yield on his MLP to fall too far is missing an opportunity to issue equity. Investment bankers rarely fail to point this out.
We like the ENB/SE merger, but that's because we're invested in ENB and SE rather than any of the affiliated MLPs. We also note that Williams Companies (WMB) continued the rally that followed its escape from the altar with Energy Transfer. The 11.4X Price/Distributable Cash Flow multiple of WMB looks attractive relative to SE's 25.3X, more so following ENB's willingness to merge at that valuation.
We are invested in ENB, SE and WMB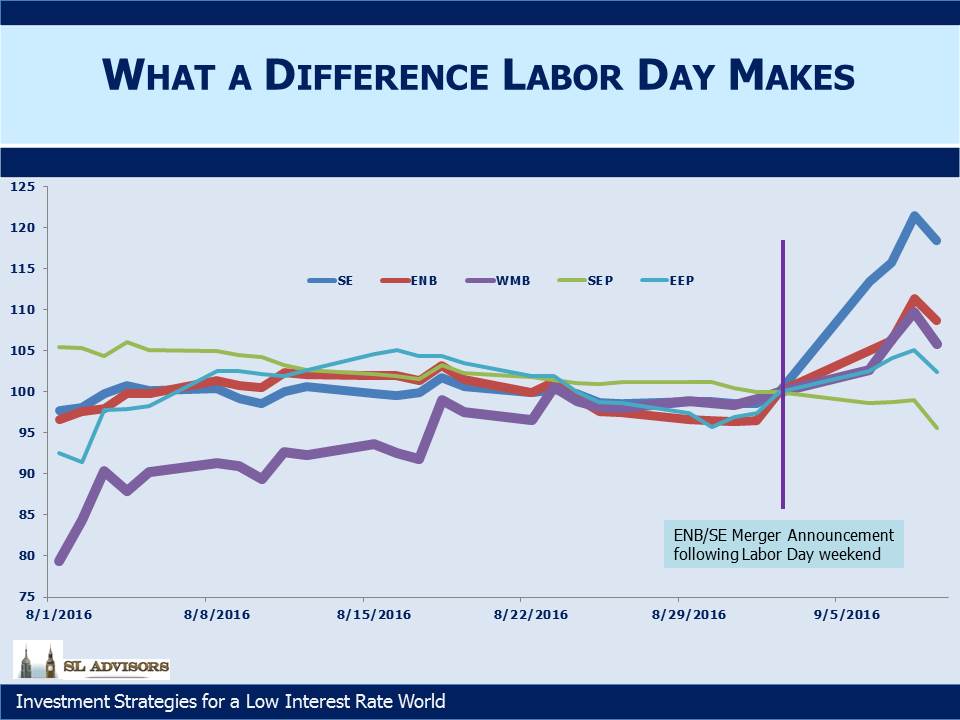 Important Disclosures
The information provided is for informational purposes only and investors should determine for themselves whether a particular service, security or product is suitable for their investment needs. The information contained herein is not complete, may not be current, is subject to change, and is subject to, and qualified in its entirety by, the more complete disclosures, risk factors and other terms that are contained in the disclosure, prospectus, and offering. Certain information herein has been obtained from third party sources and, although believed to be reliable, has not been independently verified and its accuracy or completeness cannot be guaranteed. No representation is made with respect to the accuracy, completeness or timeliness of this information. Nothing provided on this site constitutes tax advice. Individuals should seek the advice of their own tax advisor for specific information regarding tax consequences of investments. Investments in securities entail risk and are not suitable for all investors. This site is not a recommendation nor an offer to sell (or solicitation of an offer to buy) securities in the United States or in any other jurisdiction.
References to indexes and benchmarks are hypothetical illustrations of aggregate returns and do not reflect the performance of any actual investment. Investors cannot invest in an index and do not reflect the deduction of the advisor's fees or other trading expenses. There can be no assurance that current investments will be profitable. Actual realized returns will depend on, among other factors, the value of assets and market conditions at the time of disposition, any related transaction costs, and the timing of the purchase. Indexes and benchmarks may not directly correlate or only partially relate to portfolios managed by SL Advisors as they have different underlying investments and may use different strategies or have different objectives than portfolios managed by SL Advisors (e.g. The Alerian index is a group MLP securities in the oil and gas industries. Portfolios may not include the same investments that are included in the Alerian Index. The S & P Index does not directly relate to investment strategies managed by SL Advisers.)
This site may contain forward-looking statements relating to the objectives, opportunities, and the future performance of the U.S. market generally. Forward-looking statements may be identified by the use of such words as; "believe," "expect," "anticipate," "should," "planned," "estimated," "potential" and other similar terms. Examples of forward-looking statements include, but are not limited to, estimates with respect to financial condition, results of operations, and success or lack of success of any particular investment strategy. All are subject to various factors, including, but not limited to general and local economic conditions, changing levels of competition within certain industries and markets, changes in interest rates, changes in legislation or regulation, and other economic, competitive, governmental, regulatory and technological factors affecting a portfolio's operations that could cause actual results to differ materially from projected results. Such statements are forward-looking in nature and involves a number of known and unknown risks, uncertainties and other factors, and accordingly, actual results may differ materially from those reflected or contemplated in such forward-looking statements. Prospective investors are cautioned not to place undue reliance on any forward-looking statements or examples. None of SL Advisors LLC or any of its affiliates or principals nor any other individual or entity assumes any obligation to update any forward-looking statements as a result of new information, subsequent events or any other circumstances. All statements made herein speak only as of the date that they were made. r
Certain hyperlinks or referenced websites on the Site, if any, are for your convenience and forward you to third parties' websites, which generally are recognized by their top level domain name. Any descriptions of, references to, or links to other products, publications or services does not constitute an endorsement, authorization, sponsorship by or affiliation with SL Advisors LLC with respect to any linked site or its sponsor, unless expressly stated by SL Advisors LLC. Any such information, products or sites have not necessarily been reviewed by SL Advisors LLC and are provided or maintained by third parties over whom SL Advisors LLC exercise no control. SL Advisors LLC expressly disclaim any responsibility for the content, the accuracy of the information, and/or quality of products or services provided by or advertised on these third-party sites.
All investment strategies have the potential for profit or loss. Different types of investments involve varying degrees of risk, and there can be no assurance that any specific investment will be suitable or profitable for a client's investment portfolio.
Past performance of the American Energy Independence Index is not indicative of future returns.
https://sl-advisors.com/wp-content/uploads/2013/04/logo1.jpg
0
0
Simon Lack
https://sl-advisors.com/wp-content/uploads/2013/04/logo1.jpg
Simon Lack
2016-09-11 07:00:43
2016-09-11 07:00:43
Controlling Assets Without Buying Them