Another Gripping Episode of Brexit
For constitutional observers, each weekly Brexit installment leaves viewers on the edge of their seats, pondering what further twists in the drama remain. Most recently, England's Supreme Court ruled against Conservative Prime Minister Boris Johnson's suspension of Parliament. Intended to stifle parliamentary debate during the run-up to Britain's next Brexit deadline of October 31, the PM had argued that the extended closure was a normal prorogation leading to the Queen's speech opening parliament's next session. Nobody was fooled, and Johnson has in effect been found to have provided illegal advice when he asked the Queen to suspend Parliament. Great embarrassment for PM and Monarch. Civil wars are fought for less.
Johnson's premiership opened shakily last month. He lost four straight votes while Parliament passed a law preventing a hard Brexit. The PM had pledged to leave the EU on October 31, with or without a deal, and Parliament disagreed. He then tried to call an early election. But the opposition preferred him in office but not in power for a few more weeks, so voted that down too. The PM subsequently kicked 21 MPs out of the Conservative party, including Nick Soames, Churchill's grandson.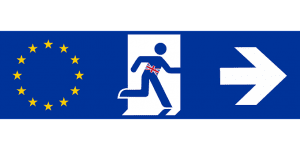 As a vocal Brexit supporter, it's entirely appropriate that Boris Johnson should be in power right now, so as to carry the burden of the policy he championed, and to explain any disruption in its execution.
The country where I grew up has suffered from a complete void of competent political leadership in recent years. David Cameron's decision to hold the referendum on Brexit in 2016 unleashed the divisiveness that has dominated UK politics ever since. Leaving the EU is far too complex to be based on a simple Yes/No vote. It should have been fought through a general election, with the winner responsible for carrying it out. Except that none of the major political parties supported Brexit, a political gulf starkly exposed by the referendum. When politicians don't reflect voters' views, populism follows. It is democratic, if unsettling
If you know someone's location you can pretty much guess how they voted. London and other large cities along with Scotland and Northern Ireland voted to remain, while suburban and rural England voted to leave. No wonder the Scots may seek independence from the UK, as they're dragged unwillingly out of the EU. Although the vote was close (52%:48%), and didn't provide any view on what type of EU exit was approved (though it probably wasn't a hard Brexit), polls suggest that few voters' positions have since moderated.
People regularly ask me how it'll turn out. I don't think anyone can be sure. Since Parliament has outlawed Brexit with no deal, but also failed to approve Theresa May's exit deal when she was PM, another delay is possible. Johnson could negotiate a revised exit agreement and get it through Parliament, which will now be reconvening earlier because of the Supreme Court decision. But he's lost his majority by ejecting Conservative MPs who previously voted against him, so he may fail in getting his deal through too.
Another Brexit delay would lead to a general election, on which Brexit would finally be the defining issue. It's recasting normal voting patterns. The Conservatives are unambiguously the Brexit party.
Labor is led by Socialist Jeremy Corbyn, whose main accomplishment has been to offer such a dystopian vision of Britain under his premiership that Theresa May clung to power far longer than her inept negotiations should have allowed. Labor's Brexit position is ambiguous, an odd posture when it's the country #1 issue. They're choosing strategic flexibility at the cost of votes.
The Lib-Dems are the Remain party. But they routinely run a distant third, which renders their popular vote vastly under-represented in Britain's first past the post electoral system. Hence, Lib-Dem votes are often regarded as wasted, like voting for a third candidate in a U.S. presidential election.
As a result, Johnson is betting that he'll romp home with a decisive majority over a divided Labor party and weakly supported Lib-Dems. So far his judgment has been poor on every big issue. So we'll see how that turns out for him.
I have close friends on both sides of Brexit, and can well appreciate the emotions supporting leaving the EU even though I would have voted to Remain. I'll be visiting the UK next week, and have little doubt it will be a topic of discussion.
In any event, I no longer vote in the UK, having emigrated over thirty years ago, thereby forfeiting my UK voting rights. Instead, I vote in the U.S. at every opportunity, including primaries and even school board elections. Brexit is an utterly absorbing spectacle for this transplanted Brit, safely ensconced in the U.S. Those who criticize America's dysfunctional politics should watch the UK for a few days. Its democratic institutions are proving robust, in spite of the efforts of the current crop of leaders to break them.
EU history is full of late night crisis negotiations that avert catastrophe. Surely the biggest crisis of all will ultimately be resolved this way. My bet is that the UK will leave with a new deal, and as ill-advised as that move is, they'll muddle through and things will work out. But there's a wide range of possible outcomes, and next week I may change my mind again.
Important Disclosures
The information provided is for informational purposes only and investors should determine for themselves whether a particular service, security or product is suitable for their investment needs. The information contained herein is not complete, may not be current, is subject to change, and is subject to, and qualified in its entirety by, the more complete disclosures, risk factors and other terms that are contained in the disclosure, prospectus, and offering. Certain information herein has been obtained from third party sources and, although believed to be reliable, has not been independently verified and its accuracy or completeness cannot be guaranteed. No representation is made with respect to the accuracy, completeness or timeliness of this information. Nothing provided on this site constitutes tax advice. Individuals should seek the advice of their own tax advisor for specific information regarding tax consequences of investments. Investments in securities entail risk and are not suitable for all investors. This site is not a recommendation nor an offer to sell (or solicitation of an offer to buy) securities in the United States or in any other jurisdiction.
References to indexes and benchmarks are hypothetical illustrations of aggregate returns and do not reflect the performance of any actual investment. Investors cannot invest in an index and do not reflect the deduction of the advisor's fees or other trading expenses. There can be no assurance that current investments will be profitable. Actual realized returns will depend on, among other factors, the value of assets and market conditions at the time of disposition, any related transaction costs, and the timing of the purchase. Indexes and benchmarks may not directly correlate or only partially relate to portfolios managed by SL Advisors as they have different underlying investments and may use different strategies or have different objectives than portfolios managed by SL Advisors (e.g. The Alerian index is a group MLP securities in the oil and gas industries. Portfolios may not include the same investments that are included in the Alerian Index. The S & P Index does not directly relate to investment strategies managed by SL Advisers.)
This site may contain forward-looking statements relating to the objectives, opportunities, and the future performance of the U.S. market generally. Forward-looking statements may be identified by the use of such words as; "believe," "expect," "anticipate," "should," "planned," "estimated," "potential" and other similar terms. Examples of forward-looking statements include, but are not limited to, estimates with respect to financial condition, results of operations, and success or lack of success of any particular investment strategy. All are subject to various factors, including, but not limited to general and local economic conditions, changing levels of competition within certain industries and markets, changes in interest rates, changes in legislation or regulation, and other economic, competitive, governmental, regulatory and technological factors affecting a portfolio's operations that could cause actual results to differ materially from projected results. Such statements are forward-looking in nature and involves a number of known and unknown risks, uncertainties and other factors, and accordingly, actual results may differ materially from those reflected or contemplated in such forward-looking statements. Prospective investors are cautioned not to place undue reliance on any forward-looking statements or examples. None of SL Advisors LLC or any of its affiliates or principals nor any other individual or entity assumes any obligation to update any forward-looking statements as a result of new information, subsequent events or any other circumstances. All statements made herein speak only as of the date that they were made. r
Certain hyperlinks or referenced websites on the Site, if any, are for your convenience and forward you to third parties' websites, which generally are recognized by their top level domain name. Any descriptions of, references to, or links to other products, publications or services does not constitute an endorsement, authorization, sponsorship by or affiliation with SL Advisors LLC with respect to any linked site or its sponsor, unless expressly stated by SL Advisors LLC. Any such information, products or sites have not necessarily been reviewed by SL Advisors LLC and are provided or maintained by third parties over whom SL Advisors LLC exercise no control. SL Advisors LLC expressly disclaim any responsibility for the content, the accuracy of the information, and/or quality of products or services provided by or advertised on these third-party sites.
All investment strategies have the potential for profit or loss. Different types of investments involve varying degrees of risk, and there can be no assurance that any specific investment will be suitable or profitable for a client's investment portfolio.
Past performance of the American Energy Independence Index is not indicative of future returns.
https://sl-advisors.com/wp-content/uploads/2013/04/logo1.jpg
0
0
Simon Lack
https://sl-advisors.com/wp-content/uploads/2013/04/logo1.jpg
Simon Lack
2019-09-25 06:00:33
2019-09-24 15:45:34
Another Gripping Episode of Brexit