Tallgrass Energy is the Right Kind of MLP
Tallgrass Energy is the Right Kind of MLP
If Linn Energy was the wrong kind of MLP (see last week's blog), Tallgrass Energy is the right kind. They have an MLP, Tallgrass Energy Partners (TEP) and a publicly traded General Partner, Tallgrass Energy, GP (TEGP). It'll come as little surprise to regular readers that we are invested in TEGP alongside CEO David Dehaemers because, as Willie Sutton knew, that's where the money is. Dehaemers runs a great conference call, combining plain talk with a little levity, such as promising to finish a recent call in time for analysts to get their opinions from Jim Cramer's Mad Money.
Last week Tallgrass held a webcast to discuss their Rockies Express natural gas pipeline ("REX"). The slide below is from that webcast. REX runs from Wyoming to West Virginia, from "Shale to Shining Shale" if nonetheless short of being completely transcontinental. TEP recently acquired a 25% interest in REX from privately-held Tallgrass Development. It's a great asset, with the ability to connect to many population centers across the northern U.S. states it traverses. However, the recent abundance of natural gas in the north east U.S. out of the Marcellus and Utica shales has hindered the traditional west-east flow of gas from the Rockies, and had especially affected demand in the Zone 3 eastern section of the pipeline from Illinois.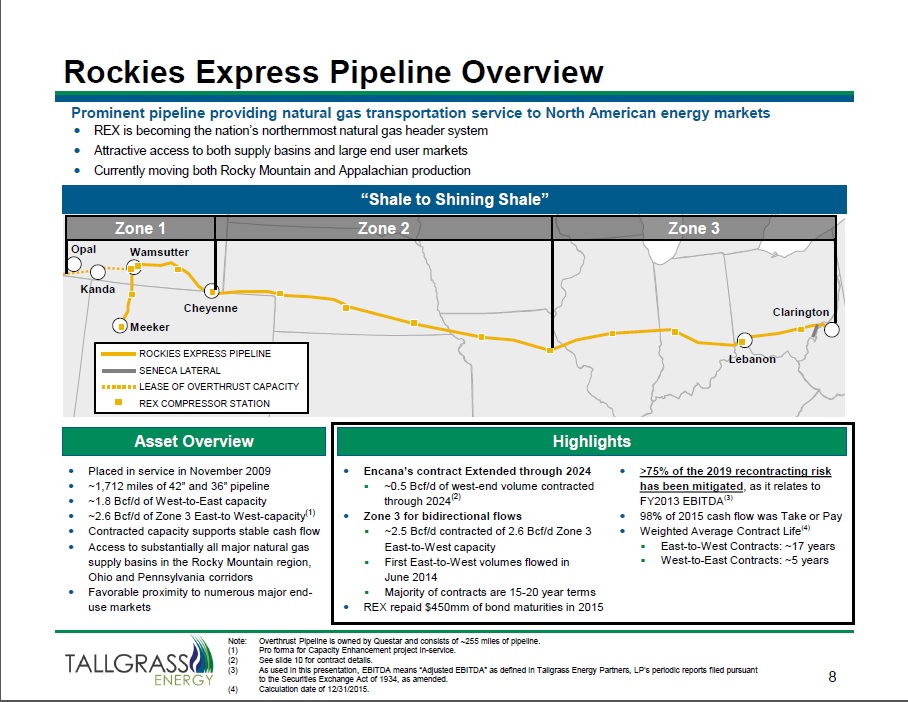 The webcast provided a positive update on the contracting of capacity on REX. Last year Tallgrass implemented a pipeline reversal on Zone 3 to allow two-way flow on that part of the network. They anticipate extending this to the rest of REX in the years ahead. The increased capacity and flexibility create substantial optionality to meet future demand, and have brought improved visibility to the EBITDA REX is expected to generate. Consequently, TEP is guiding to 20% distribution growth. More interestingly for Dehaemers and other investors in the GP, TEGP is expecting to grow its cash distributions at twice the rate of TEP. Since TEGP's entitled to half the additional Distributable Cash Flow generated by TEP, growth at TEP is magnified for TEGP, whose economic relationship with TEP resembles that of hedge fund manager to hedge fund. Tallgrass is midstream infrastructure operating a toll-type business model. Tallgrass is the right kind of MLP.
Is Irrational Exuberance Returning to MLPs?
Such a question seems premature by at least several years, and yet is prompted by the issuance last week by Credit Suisse of a 2X levered note linked to the Alerian Index. Its buyers must desire to make money in a hurry, a quest which invariably results in the opposite outcome.
At the risk of being a party pooper, below is a simulation of the performance AMJL would have delivered to its thrill seeking holder had he invested at the beginning of 2014. Here I'm unapologetically sexist; only a man would buy AMJL (see June 2014 newsletter How to Invest Like a Woman). The highs would have been high, but the lows would have been, well, low. AMJL's creator is unburdened by the need to design products for which a long term holding period is preferable. Lots of products are sold that nonetheless are bad for you, including tobacco products, cocaine and non-traded REITs. Add enough warning labels and (with some exceptions) you can meet consumer demand. However, you are unlikely to find a CFA charterholder near AMJL because the CFA's Integrity List includes "Place the client's interests before your own", a requirement inconveniently at odds with distributing securities whose holders, "…intend to actively monitor and manage their investments" (as noted in the 14 page section on Risk Factors).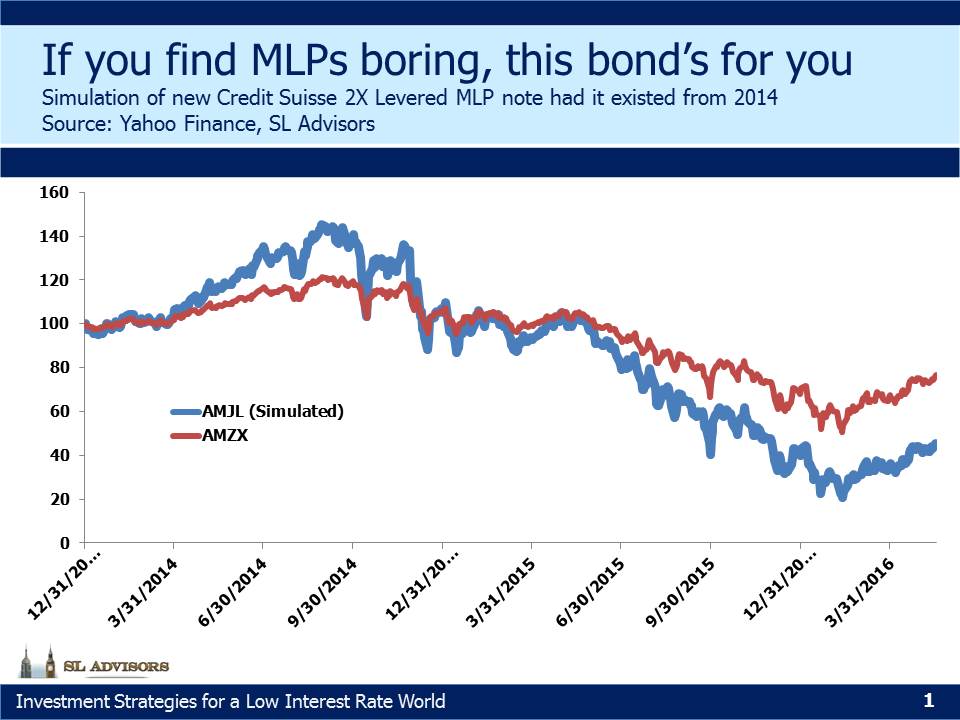 If a non-financial company issued a security like AMJL, potential buyers would reasonably assume that the issuer's objective was simply to raise money cheaply. Credit Suisse has the same objective, and yet as their brokers promote it some confused investors will assume Credit Suisse has their best interests at heart and will be persuaded that it is a good investment.
There are worse securities than AMJL to be sure. It is not in the league of non-traded REITs. But it is one whose proponents have fingers crossed while promoting, and will hopefully inflict less damage on clients than two similar ETN's issued by UBS which collapsed far enough to trigger mandatory redemptions as recently as January (see the second section of this blog post from January). Standards in Finance are not yet unreasonably high.
We are invested in TEGP.
Important Disclosures
The information provided is for informational purposes only and investors should determine for themselves whether a particular service, security or product is suitable for their investment needs. The information contained herein is not complete, may not be current, is subject to change, and is subject to, and qualified in its entirety by, the more complete disclosures, risk factors and other terms that are contained in the disclosure, prospectus, and offering. Certain information herein has been obtained from third party sources and, although believed to be reliable, has not been independently verified and its accuracy or completeness cannot be guaranteed. No representation is made with respect to the accuracy, completeness or timeliness of this information. Nothing provided on this site constitutes tax advice. Individuals should seek the advice of their own tax advisor for specific information regarding tax consequences of investments. Investments in securities entail risk and are not suitable for all investors. This site is not a recommendation nor an offer to sell (or solicitation of an offer to buy) securities in the United States or in any other jurisdiction.
References to indexes and benchmarks are hypothetical illustrations of aggregate returns and do not reflect the performance of any actual investment. Investors cannot invest in an index and do not reflect the deduction of the advisor's fees or other trading expenses. There can be no assurance that current investments will be profitable. Actual realized returns will depend on, among other factors, the value of assets and market conditions at the time of disposition, any related transaction costs, and the timing of the purchase. Indexes and benchmarks may not directly correlate or only partially relate to portfolios managed by SL Advisors as they have different underlying investments and may use different strategies or have different objectives than portfolios managed by SL Advisors (e.g. The Alerian index is a group MLP securities in the oil and gas industries. Portfolios may not include the same investments that are included in the Alerian Index. The S & P Index does not directly relate to investment strategies managed by SL Advisers.)
This site may contain forward-looking statements relating to the objectives, opportunities, and the future performance of the U.S. market generally. Forward-looking statements may be identified by the use of such words as; "believe," "expect," "anticipate," "should," "planned," "estimated," "potential" and other similar terms. Examples of forward-looking statements include, but are not limited to, estimates with respect to financial condition, results of operations, and success or lack of success of any particular investment strategy. All are subject to various factors, including, but not limited to general and local economic conditions, changing levels of competition within certain industries and markets, changes in interest rates, changes in legislation or regulation, and other economic, competitive, governmental, regulatory and technological factors affecting a portfolio's operations that could cause actual results to differ materially from projected results. Such statements are forward-looking in nature and involves a number of known and unknown risks, uncertainties and other factors, and accordingly, actual results may differ materially from those reflected or contemplated in such forward-looking statements. Prospective investors are cautioned not to place undue reliance on any forward-looking statements or examples. None of SL Advisors LLC or any of its affiliates or principals nor any other individual or entity assumes any obligation to update any forward-looking statements as a result of new information, subsequent events or any other circumstances. All statements made herein speak only as of the date that they were made. r
Certain hyperlinks or referenced websites on the Site, if any, are for your convenience and forward you to third parties' websites, which generally are recognized by their top level domain name. Any descriptions of, references to, or links to other products, publications or services does not constitute an endorsement, authorization, sponsorship by or affiliation with SL Advisors LLC with respect to any linked site or its sponsor, unless expressly stated by SL Advisors LLC. Any such information, products or sites have not necessarily been reviewed by SL Advisors LLC and are provided or maintained by third parties over whom SL Advisors LLC exercise no control. SL Advisors LLC expressly disclaim any responsibility for the content, the accuracy of the information, and/or quality of products or services provided by or advertised on these third-party sites.
All investment strategies have the potential for profit or loss. Different types of investments involve varying degrees of risk, and there can be no assurance that any specific investment will be suitable or profitable for a client's investment portfolio.
Past performance of the American Energy Independence Index is not indicative of future returns.
https://sl-advisors.com/wp-content/uploads/2013/04/logo1.jpg
0
0
Simon Lack
https://sl-advisors.com/wp-content/uploads/2013/04/logo1.jpg
Simon Lack
2016-05-22 07:00:04
2016-05-22 07:00:04
Tallgrass Energy is the Right Kind of MLP