Interesting Perspectives from Plains All American's Investor Day
Plains All American Pipeline (PAA) held their Investor Day on Thursday. The presentations included a fascinating analysis of the global oil market with a view to forecasting prices as well as regional supply/demand, since these are important drivers of PAA's planned infrastructure development. The chart at the left, reproduced from PAA's Investor Day deck, plainly shows the impact of growing North American output on the global market. Since 2011 global supply has increased by a little over 4 MMB/D, 1.4MMB/D in excess of demand growth which is why inventories have gro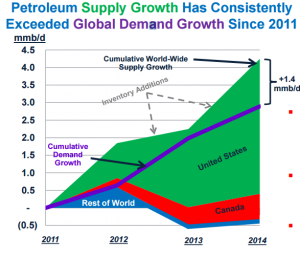 wn. Moreover, North America has met more than 100% of this increase in global demand, since output in the rest of the world has net fallen somewhat. This simple graphic illustrates as well as anything that the Shale Revolution in the U.S. has not just been a North American story but has impacted the global oil market, most obviously through the drop in prices since last Summer.
A corollary to this is that growing U.S. production is reducing import demand, as U.S. refiners process more domestic crude oil. However, U.S. refineries are generally better able to process the heavy crude that we've historically imported, and the light sweet crude that is typically produced from domestic fields is not as good a fit for many refining facilities. There are also distribution bottlenecks which are gradually being alleviated, but in combination these two factors along with the ban on crude oil exports account for the discount of WTI crude compared with Brent.
The export ban dates back to the 1970s, and looks increasingly anachronistic today. You might expect the oil industry (excluding refiners who benefit from captive suppliers) to favor repealing the export ban. Greg Armstrong, PAA's CEO, acknowledged the free market argument in favor of doing so but also conceded limited political support for such a move. It would seem intuitive that allowing domestic oil to be sold overseas would raise its price and therefore increase the cost of domestic refined products, including gasoline, which explains the limited political support.
Surprisingly though, quite a number of independent studies have concluded that allowing U.S. exports of crude oil would lower domestic gasoline prices. The analysis predicts that selling U.S. oil on the world market would increase global supply and further stimulate domestic production, thereby lowering gas prices. It's not obvious; unsurprisingly,  the American Petroleum Institute makes the case but among the many sources they cite are included the Federal Reserve Bank of Dallas and the Congressional Budget Office, two entities not that connected to E&P. So although political support isn't strong today, the economic case is more supportive than you might first think. Lifting the ban would be good for the domestic energy industry including infrastructure.
On a different topic, Greece is once again in the news as another critical deadline approaches. It may not be much appreciated or even known by their creditors, who are now largely the IMF and the ECB, but as I wrote in Bonds Are Not Forever, since gaining independence from Turkey in 1822 Greece has been in default approximately 50% of the time. Given this checkered history as a reliable debtor, the repayment expectations of Greece's creditors are barely credible. Under the capital guidelines on developed country debt in force prior to the 2008 financial crisis, Greece's debt drew the same capital requirements as Germany's for those banks which held it (which were numerous), in willful defiance of history as well as common sense. Much of that debt is now held by their current creditors, having been transferred from private hands to public in a prior renegotiation. But it seems to me that if it's stupid to borrow what you can't repay, it's stupider to lend what probably can't be repaid. Greece is an example of the general abundance of debt in the financial system. While not every borrower is Greece, today's bond investors are offered an unlimited supply to choose from, yet at yields that would suggest scarcity. The thoughtful bond investor is switching asset classes.
We are invested in Plains GP Holdings, the General Partner of PAA.
Important Disclosures
The information provided is for informational purposes only and investors should determine for themselves whether a particular service, security or product is suitable for their investment needs. The information contained herein is not complete, may not be current, is subject to change, and is subject to, and qualified in its entirety by, the more complete disclosures, risk factors and other terms that are contained in the disclosure, prospectus, and offering. Certain information herein has been obtained from third party sources and, although believed to be reliable, has not been independently verified and its accuracy or completeness cannot be guaranteed. No representation is made with respect to the accuracy, completeness or timeliness of this information. Nothing provided on this site constitutes tax advice. Individuals should seek the advice of their own tax advisor for specific information regarding tax consequences of investments. Investments in securities entail risk and are not suitable for all investors. This site is not a recommendation nor an offer to sell (or solicitation of an offer to buy) securities in the United States or in any other jurisdiction.
References to indexes and benchmarks are hypothetical illustrations of aggregate returns and do not reflect the performance of any actual investment. Investors cannot invest in an index and do not reflect the deduction of the advisor's fees or other trading expenses. There can be no assurance that current investments will be profitable. Actual realized returns will depend on, among other factors, the value of assets and market conditions at the time of disposition, any related transaction costs, and the timing of the purchase. Indexes and benchmarks may not directly correlate or only partially relate to portfolios managed by SL Advisors as they have different underlying investments and may use different strategies or have different objectives than portfolios managed by SL Advisors (e.g. The Alerian index is a group MLP securities in the oil and gas industries. Portfolios may not include the same investments that are included in the Alerian Index. The S & P Index does not directly relate to investment strategies managed by SL Advisers.)
This site may contain forward-looking statements relating to the objectives, opportunities, and the future performance of the U.S. market generally. Forward-looking statements may be identified by the use of such words as; "believe," "expect," "anticipate," "should," "planned," "estimated," "potential" and other similar terms. Examples of forward-looking statements include, but are not limited to, estimates with respect to financial condition, results of operations, and success or lack of success of any particular investment strategy. All are subject to various factors, including, but not limited to general and local economic conditions, changing levels of competition within certain industries and markets, changes in interest rates, changes in legislation or regulation, and other economic, competitive, governmental, regulatory and technological factors affecting a portfolio's operations that could cause actual results to differ materially from projected results. Such statements are forward-looking in nature and involves a number of known and unknown risks, uncertainties and other factors, and accordingly, actual results may differ materially from those reflected or contemplated in such forward-looking statements. Prospective investors are cautioned not to place undue reliance on any forward-looking statements or examples. None of SL Advisors LLC or any of its affiliates or principals nor any other individual or entity assumes any obligation to update any forward-looking statements as a result of new information, subsequent events or any other circumstances. All statements made herein speak only as of the date that they were made. r
Certain hyperlinks or referenced websites on the Site, if any, are for your convenience and forward you to third parties' websites, which generally are recognized by their top level domain name. Any descriptions of, references to, or links to other products, publications or services does not constitute an endorsement, authorization, sponsorship by or affiliation with SL Advisors LLC with respect to any linked site or its sponsor, unless expressly stated by SL Advisors LLC. Any such information, products or sites have not necessarily been reviewed by SL Advisors LLC and are provided or maintained by third parties over whom SL Advisors LLC exercise no control. SL Advisors LLC expressly disclaim any responsibility for the content, the accuracy of the information, and/or quality of products or services provided by or advertised on these third-party sites.
All investment strategies have the potential for profit or loss. Different types of investments involve varying degrees of risk, and there can be no assurance that any specific investment will be suitable or profitable for a client's investment portfolio.
Past performance of the American Energy Independence Index is not indicative of future returns.
https://sl-advisors.com/wp-content/uploads/2013/04/logo1.jpg
0
0
Simon Lack
https://sl-advisors.com/wp-content/uploads/2013/04/logo1.jpg
Simon Lack
2015-06-06 11:26:07
2015-06-06 11:26:07
Interesting Perspectives from Plains All American's Investor Day