Adapting to New Circumstances
Investors are focusing carefully on the response of Master Limited Partnership (MLP) managements to the impact of a higher cost of equity on their growth plans. Those firms that moderate their growth forecasts in response so as to rely less on issuing equity and maintain their distribution coverage are acting thoughtfully with the best interests of their investors. To that end, Oneok (OKE) announced that they don't anticipate issuing any equity at their MLP, Oneok Partners (OKS) until well into 2017. Their distribution coverage at OKE is expected to rise to 1.3X. It currently yields 10.2%. OKS yields 10.9% (both based on trailing distributions).
MLPs are reconciling their growth plans with the constrained appetite of investors to provide financing. MLP investors don't tend to trade their positions that frequently because the tax deferral benefits grow over time for direct investors. Selling causes the  recapture of income previously received and a corresponding tax liability. Their long term investment horizon is rare today, with so much focus on the near term trend. OKE and OKS are recognizing the multi-year partnership with their investor base and behaving in a way that's consistent with retaining their stakeholders.
The lifting of the U.S. ban on oil exports was quickly followed by an announcement by Enterprise Products (EPD) that it would provide pipeline and marine terminal services for the export of domestic, light crude. The first shipment is expected next month. It's not a game-changer for midstream infrastructure, but is clearly good for them as well as for domestic crude oil producers.
We have concluded that an overlooked but important factor behind the collapse in MLP prices this year relates to capital flows and the investor base. In our first blog of 2016 we will publish a more detailed analysis of why understanding MLP capital flows is important and what it means for the sector going forward.
The chart below lines up the Alerian Index as it performed through the 2007-08 Financial Crisis and subsequent rebound with its performance through the crude oil collapse of 2014-15. An optimistic visual interpretation might suggest better days are ahead. We'll see.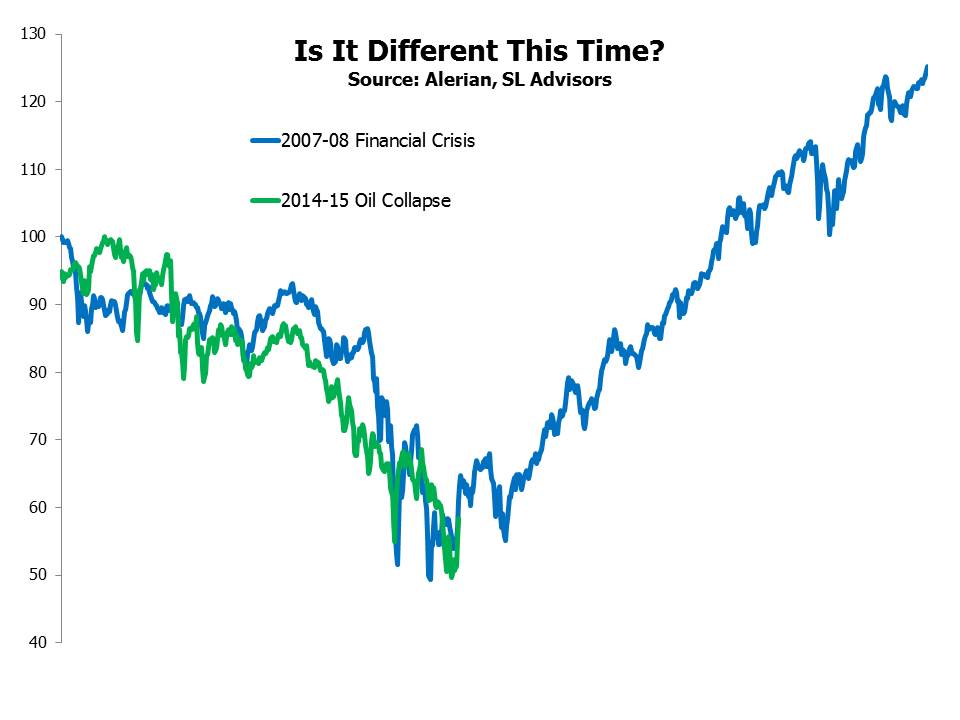 Important Disclosures
The information provided is for informational purposes only and investors should determine for themselves whether a particular service, security or product is suitable for their investment needs. The information contained herein is not complete, may not be current, is subject to change, and is subject to, and qualified in its entirety by, the more complete disclosures, risk factors and other terms that are contained in the disclosure, prospectus, and offering. Certain information herein has been obtained from third party sources and, although believed to be reliable, has not been independently verified and its accuracy or completeness cannot be guaranteed. No representation is made with respect to the accuracy, completeness or timeliness of this information. Nothing provided on this site constitutes tax advice. Individuals should seek the advice of their own tax advisor for specific information regarding tax consequences of investments. Investments in securities entail risk and are not suitable for all investors. This site is not a recommendation nor an offer to sell (or solicitation of an offer to buy) securities in the United States or in any other jurisdiction.
References to indexes and benchmarks are hypothetical illustrations of aggregate returns and do not reflect the performance of any actual investment. Investors cannot invest in an index and do not reflect the deduction of the advisor's fees or other trading expenses. There can be no assurance that current investments will be profitable. Actual realized returns will depend on, among other factors, the value of assets and market conditions at the time of disposition, any related transaction costs, and the timing of the purchase. Indexes and benchmarks may not directly correlate or only partially relate to portfolios managed by SL Advisors as they have different underlying investments and may use different strategies or have different objectives than portfolios managed by SL Advisors (e.g. The Alerian index is a group MLP securities in the oil and gas industries. Portfolios may not include the same investments that are included in the Alerian Index. The S & P Index does not directly relate to investment strategies managed by SL Advisers.)
This site may contain forward-looking statements relating to the objectives, opportunities, and the future performance of the U.S. market generally. Forward-looking statements may be identified by the use of such words as; "believe," "expect," "anticipate," "should," "planned," "estimated," "potential" and other similar terms. Examples of forward-looking statements include, but are not limited to, estimates with respect to financial condition, results of operations, and success or lack of success of any particular investment strategy. All are subject to various factors, including, but not limited to general and local economic conditions, changing levels of competition within certain industries and markets, changes in interest rates, changes in legislation or regulation, and other economic, competitive, governmental, regulatory and technological factors affecting a portfolio's operations that could cause actual results to differ materially from projected results. Such statements are forward-looking in nature and involves a number of known and unknown risks, uncertainties and other factors, and accordingly, actual results may differ materially from those reflected or contemplated in such forward-looking statements. Prospective investors are cautioned not to place undue reliance on any forward-looking statements or examples. None of SL Advisors LLC or any of its affiliates or principals nor any other individual or entity assumes any obligation to update any forward-looking statements as a result of new information, subsequent events or any other circumstances. All statements made herein speak only as of the date that they were made. r
Certain hyperlinks or referenced websites on the Site, if any, are for your convenience and forward you to third parties' websites, which generally are recognized by their top level domain name. Any descriptions of, references to, or links to other products, publications or services does not constitute an endorsement, authorization, sponsorship by or affiliation with SL Advisors LLC with respect to any linked site or its sponsor, unless expressly stated by SL Advisors LLC. Any such information, products or sites have not necessarily been reviewed by SL Advisors LLC and are provided or maintained by third parties over whom SL Advisors LLC exercise no control. SL Advisors LLC expressly disclaim any responsibility for the content, the accuracy of the information, and/or quality of products or services provided by or advertised on these third-party sites.
All investment strategies have the potential for profit or loss. Different types of investments involve varying degrees of risk, and there can be no assurance that any specific investment will be suitable or profitable for a client's investment portfolio.
Past performance of the American Energy Independence Index is not indicative of future returns.
https://sl-advisors.com/wp-content/uploads/2013/04/logo1.jpg
0
0
Simon Lack
https://sl-advisors.com/wp-content/uploads/2013/04/logo1.jpg
Simon Lack
2015-12-27 07:00:54
2015-12-27 07:00:54
Adapting to New Circumstances