Sclumberger's Perspective
Schlumberger (SLB) provides services worldwide in support of gas and oil exploration and production companies. They are at the sharp end of shifts in production, and as such have an interesting perspective on the upheaval in the crude oil market. A recent investor presentation highlighted that increased global demand of around 1 MMBD (million barrels per day) annually has been fully met by higher North American output. Global supply capacity away from North America has remained flat. Increased production from North America (from just under 12 MMBD in 2011 to 16 mmbd last year) is of course not news, but I thought the fact that this has fully accounted for increased global demand and not just a portion of it highlighted the importance of unconventional drilling.
OPEC has consequently been losing market share, and OPEC's desire to push back against this loss in behind price drop. Historically, OPE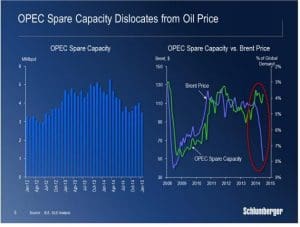 C spare capacity has tracked the price of Brent crude oil fairly closely, as can be seen in the chart on the left. This was in effect OPEC (mainly Saudi Arabia) acting to smooth oil price swings by countering moves up (down) in price by reducing (increasing) their spare capacity. Over the past couple of years OPEC's spare capacity has been falling both as MMBD but also as a percentage of demand as they lost market share to new North American production. Their maintenance of relatively low spare capacity in the face of the fall in price (as opposed to past practice whereby they would increase spare capacity, or reduce production somewhat) is of course what we've seen.
The real question is what does it mean for prices in the future. North America is now the swing producer. Break even costs vary widely and it's not meaningful to talk about a shale break-even price. The sharp drop in the rig count in recent months illustrates how responsive new activity is to prices; unconventional drilling results in wells with faster decline rates, so new wells are always being drilled. EIA forecasts are for a flattening of U.S. oil production this year and a modest drop in 2016. Much will depend on the ability of domestic producers to continue to reduce their costs, which is where Schlumberger and its competitors play a key role.
Meanwhile, U.S. oil stocks are approaching 500 million barrels, almost 20% above the top of the five year range, which makes it a good time to be an MLP with storage assets. The worst environment for energy infrastructure is one of demand destruction, usually caused by excessively high prices. That is clearly not today's world. The mutual fund we manage is doing very well in its Morningstar category.
Please click here for Legal disclosures.
https://sl-advisors.com/wp-content/uploads/2013/04/logo1.jpg
0
0
Simon Lack
https://sl-advisors.com/wp-content/uploads/2013/04/logo1.jpg
Simon Lack
2015-04-19 12:47:05
2015-04-19 12:47:05
Sclumberger's Perspective