Hearts Outvote Heads in Brexit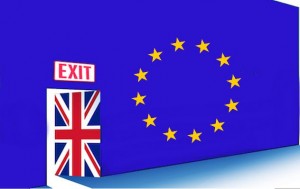 It's been 34 years since I left the UK and moved to the U.S., and 25 years since I became a U.S. citizen. I long ago lost the right to vote in UK elections, having by now spent two thirds of my life in the New World. But I shall never lose my pride at growing up English nor my intense interest in what's happening there.
So I have followed the Brexit vote avidly. It has been described as a struggle between the head, which rationally questions how the UK's economic prospects can be better with the uncertainty of leaving, and the heart, which laments the loss of sovereignty which EU membership demands. Had I voted, my head would have won and I would have checked the "Remain" box, but I have friends on both sides of this highly divisive issue and I can appreciate the frustrations of the majority. Meanwhile, the EU faces another existential crisis.
U.S. citizens are often aghast to learn of the rules agreed to by successive UK governments in order to be an EU member.  The British tabloid press routinely shouts about un-elected bureaucrats in Brussels imposing ridiculous standards of conformity, apparently to promote a more competitive EU-wide market, Many are untrue and some apocryphal, but bananas and cucumbers (to cite just one example) are subject to EU standards on size and curvature. One struggles to comprehend the mindset behind these or the motivation of those who toil to make such rules. I recently heard that EU horseshoes have certain size requirements, which causes at least one UK blacksmith to painstakingly heat and reshape the ones he buys before they'll fit local horses. Although I couldn't independently confirm this story, there have been enough similar instances to cause millions of Britons to roll their eyes.
But the major issue was immigration, and an enlarging EU burdened with permanently slow growth because of its catastrophic embrace of the Euro has seen increasing numbers of its citizens migrate north-west to the UK's more vibrant economy and job market. EU membership requires free movement of EU citizens within EU borders, and an island nation that has repelled European invaders for many centuries was never going to sit comfortably with this. When I was growing up, a vacation in Italy was described as "going to Europe" or to "the Continent". "Fog in English Channel — Continent Cut Off"  is thought to be a newspaper headline from my grandparents' time. Whether it actually existed or not, the sentiments it represents did, and in some cases perhaps remain today.
If George Soros and other speculators had not demonstrated so spectacularly in 1992 that the British Pound could not stay linked to the Deutsche Mark, the UK might have subsequently joined the Euro, and by now be suffering similarly slow growth with the rest of the Eurozone. It would at least have deterred some immigration. But Britain has always been more ambivalent about the EU than its founding members. The welcoming of over one million refugees into Germany last year, while a huge and selfless act by Germans, rendered UK PM David Cameron's promises to limit immigration both more vital and less credible.
When a country eschews tangible economic results such as GDP growth and job creation in favor of intangibles like a feeling of greater sovereignty, investors must acknowledge that the pursuit of corporate profits is not everyone's priority. While it's foolish to infer anything about the U.S. election, free trade isn't as important to as many people as establishment politicians might hope. Populism is a force in other  countries including the U.S. The benefits of open markets are broad but not uniformly distributed, and the less economically fortunate are finding their voice.
The vote split sharply along regional lines, with London, Scotland and Northern Ireland voting to Remain while most of the rest of England chose Leave. Now a second Scottish independence referendum is likely and it may see the union of 1707 dissolved, while Northern Ireland may be reunited with the Irish Republic. A diminished Britain reduced to England and Wales may seek to deepen its economic ties with the U.S.; London to New York is 3,500 miles, 1,000 miles more than Los Angeles to Hawaii. Or the UK may have second thoughts about Brexit, since the economic pain is likely to occur far sooner than freedom from EU rules. A second EU member could also leave — the Netherlands may hold their own referendum. There are many possibilities and few certainties. Nobody can really be sure how events will unfold.
There was also a generational divide, with younger voters less bothered by immigration and enamored of their EU-wide mobility while older voters reflected nostalgia for the Greater, more ethnically Anglo-Saxon, Britain  of old. Because of the propensity of seniors to choose Brexit, a meaningful portion of the 3.8% margin of victory will have passed on before the UK finally negotiates its exit. Consider this quote from one young voter: "Freedom of movement was taken away by our parents, uncles, and grandparents in a parting blow to a generation that was already drowning in the debts of our predecessors." U.S. baby-boomers are also leaving an unwelcome legacy of debts to cover their un-financed retirement healthcare (Medicare). Different generations are steadily finding theirs interests no longer aligned.
Brexit's economic impact will affect the UK economy substantially with some forecasting an immediate recession because of the uncertainty. Any long term investment decision confronts acutely difficult assumptions. But if it's bad for the UK it must be worse for the Eurozone. At least the UK knows where it's going if not exactly how it'll get there. Many other EU countries know neither, which is why Eurozone stock markets fell substantially more than the UK's FTSE. Brexit is far from being just a UK problem. The Euro really didn't need this.
Nonetheless, life will go on. Consumers will buy what they need and energy will be produced and used. Low volatility stocks will remain that way, relative to the S&P 500 at any rate, and U.S. energy infrastructure is, thankfully, over here rather than over there. Not immune to the turmoil voters have unleashed, but only tangentially impacted.
UK voters have finally tired of an EU that delivers edicts and fiscal austerity. While I wouldn't have voted to Leave, I am deeply proud of this small but highly consequential nation that has the self confidence to abandon the certainty of a dysfunctional club so as to take back control of its future, uncertain though it may be.
Important Disclosures
The information provided is for informational purposes only and investors should determine for themselves whether a particular service, security or product is suitable for their investment needs. The information contained herein is not complete, may not be current, is subject to change, and is subject to, and qualified in its entirety by, the more complete disclosures, risk factors and other terms that are contained in the disclosure, prospectus, and offering. Certain information herein has been obtained from third party sources and, although believed to be reliable, has not been independently verified and its accuracy or completeness cannot be guaranteed. No representation is made with respect to the accuracy, completeness or timeliness of this information. Nothing provided on this site constitutes tax advice. Individuals should seek the advice of their own tax advisor for specific information regarding tax consequences of investments. Investments in securities entail risk and are not suitable for all investors. This site is not a recommendation nor an offer to sell (or solicitation of an offer to buy) securities in the United States or in any other jurisdiction.
References to indexes and benchmarks are hypothetical illustrations of aggregate returns and do not reflect the performance of any actual investment. Investors cannot invest in an index and do not reflect the deduction of the advisor's fees or other trading expenses. There can be no assurance that current investments will be profitable. Actual realized returns will depend on, among other factors, the value of assets and market conditions at the time of disposition, any related transaction costs, and the timing of the purchase. Indexes and benchmarks may not directly correlate or only partially relate to portfolios managed by SL Advisors as they have different underlying investments and may use different strategies or have different objectives than portfolios managed by SL Advisors (e.g. The Alerian index is a group MLP securities in the oil and gas industries. Portfolios may not include the same investments that are included in the Alerian Index. The S & P Index does not directly relate to investment strategies managed by SL Advisers.)
This site may contain forward-looking statements relating to the objectives, opportunities, and the future performance of the U.S. market generally. Forward-looking statements may be identified by the use of such words as; "believe," "expect," "anticipate," "should," "planned," "estimated," "potential" and other similar terms. Examples of forward-looking statements include, but are not limited to, estimates with respect to financial condition, results of operations, and success or lack of success of any particular investment strategy. All are subject to various factors, including, but not limited to general and local economic conditions, changing levels of competition within certain industries and markets, changes in interest rates, changes in legislation or regulation, and other economic, competitive, governmental, regulatory and technological factors affecting a portfolio's operations that could cause actual results to differ materially from projected results. Such statements are forward-looking in nature and involves a number of known and unknown risks, uncertainties and other factors, and accordingly, actual results may differ materially from those reflected or contemplated in such forward-looking statements. Prospective investors are cautioned not to place undue reliance on any forward-looking statements or examples. None of SL Advisors LLC or any of its affiliates or principals nor any other individual or entity assumes any obligation to update any forward-looking statements as a result of new information, subsequent events or any other circumstances. All statements made herein speak only as of the date that they were made. r
Certain hyperlinks or referenced websites on the Site, if any, are for your convenience and forward you to third parties' websites, which generally are recognized by their top level domain name. Any descriptions of, references to, or links to other products, publications or services does not constitute an endorsement, authorization, sponsorship by or affiliation with SL Advisors LLC with respect to any linked site or its sponsor, unless expressly stated by SL Advisors LLC. Any such information, products or sites have not necessarily been reviewed by SL Advisors LLC and are provided or maintained by third parties over whom SL Advisors LLC exercise no control. SL Advisors LLC expressly disclaim any responsibility for the content, the accuracy of the information, and/or quality of products or services provided by or advertised on these third-party sites.
All investment strategies have the potential for profit or loss. Different types of investments involve varying degrees of risk, and there can be no assurance that any specific investment will be suitable or profitable for a client's investment portfolio.
Past performance of the American Energy Independence Index is not indicative of future returns.
https://sl-advisors.com/wp-content/uploads/2013/04/logo1.jpg
0
0
Simon Lack
https://sl-advisors.com/wp-content/uploads/2013/04/logo1.jpg
Simon Lack
2016-06-26 07:00:54
2016-06-26 07:00:54
Hearts Outvote Heads in Brexit