Health Care Versus Energy Within the S&P500
The chart below shows the performance of different sectors of the equity market so far this year. Of course, there are always sectors that are outperforming, so nothing much new there. However, if in general as an investor you don't commit much to health care and you are overweight energy, recent months have likely given you reason to examine comparative performance rather more closely, as we have. If in addition you've had a couple of small positions in smaller energy names, you've also experienced first hand the relative underperformance of small cap stocks versus the market. Suffice it to say that the results of owning a handful of large health care stocks and being short a smattering of small energy stocks would have been about as perfect a position to hold over the last three months.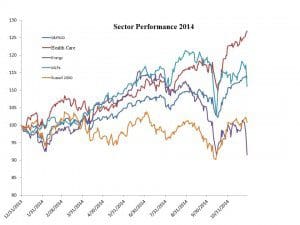 The chart tells the story, but to put numbers on it, while the S&P500 is +14% this year, Healthcare (defined as XLV, the sector ETF) has returned almost double at +27% while Energy is -19%. A good portion of the Health Care/Energy relative performance has occurred just in the past three months (28%). Interestingly, the daily returns of MLPs have been most highly correlated with Energy (64%), even though MLPs have outperformed Energy by a whopping 19.5%. In fact, at +11% for the year the performance of MLPs is not far short of the S&P500.  What's happened is that bigger than typical daily falls in Energy spill over to MLPs even though midstream energy infrastructure (what most MLPs are engaged in) has a very different risk profile from Exploration and Production. So on days when XLE fell 1%, the correlation with MLPs was higher than normal, at 76%. MLPs react to sudden moves, but on the days when Energy is not down 1% or more (84% of the time this year) they react to their own economics.
So what does one conclude? The surprise of the past 2-3 years has been that ACA (The Affordable Care Act, or "Obamacare") has been very good for the health care sector. I doubt many architects of that legislation expected to create such wealth for health care providers. However, the major news story of 2014 is clearly Oil. Small energy sector servicers have been extremely weak, while the economics for many energy infrastructure businesses have remained sound notwithstanding big drops in some of their customers' stock prices. Friday was such a day. with the Energy sector -6.3% and MLPs -5.3%. There are substantial crosscurrents beneath the simply headline result of the S&P500.
https://sl-advisors.com/wp-content/uploads/2013/04/logo1.jpg
0
0
Simon Lack
https://sl-advisors.com/wp-content/uploads/2013/04/logo1.jpg
Simon Lack
2014-11-30 08:19:20
2014-11-30 08:19:20
Health Care Versus Energy Within the S&P500