Energy's Winners and Losers
The U.S. Energy Information Agency (EIA) is a powerful resource for those interested in the topic. They recently noted that in 2016, natural gas-fired power generation would exceed coal for the first time in history. 18.7 gigawatts (GW) of new gas-fired capacity is due to come online between now and 2018 replacing dirtier coal plants as they are gradually phased out. Moreover, much of this new capacity is located near its source of energy, so Pennsylvania, West Virginia and Ohio (Marcellus and Utica shales) as well as Texas and Louisiana (Eagle Ford and Haynesville shales) have seen much of this added capacity. The travails of the coal industry are well known, with the bankruptcy filing last week of the world's biggest coalminer Peabody Coal (BTU) highlighting the economic challenges of producing the dirtiest fossil fuel. Cheap natural gas has long been on course to supplant coal for power generation in the U.S. The EIA's Annual Energy Outlook 2015 forecasts natural gas to move from 27% to 31% of electricity generation by 2040. Only renewables will also enjoy an increased share, with Nuclear and Coal both slipping in importance.
What's taking place is a fairly dramatic transformation of the ways in which the U.S. uses energy compared with as recently as five years ago. The unlocking of vast amounts of natural gas has provided very competitively priced power for industry, cheap ethane feedstock for use in the production of plastics and by displacing coal has allowed the U.S. to curb its production of greenhouse gases. This last point is especially ironic since the U.S. never signed up to the Kyoto Protocol, whose goal was to limit emissions of carbon and other pollutants.
Sometimes when chatting with clients about energy consumption and fossil fuels I'm asked why we don't worry about electric cars and solar power upending the sourcing and consumption of electricity. Electric cars sound clean, but it depends on how the electricity they use is generated. The good news here is that it's increasingly from relatively clean natural gas although it does vary across the United States. A friend of mine is planning to buy a Tesla, and her environmentally-sensitive decision is supported by the virtual absence of coal-fired electricity production in New York and New Jersey where she'll be driving. Wyoming may offer spectacular scenery and an environment worth saving, but with 89% of its power coming from coal a Tesla won't much help the environment there. West Virginia and Kentucky are similar.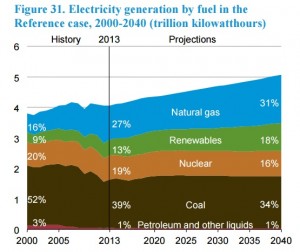 Renewables are expected to gain in importance, going from 13% of our electricity generation to 18% by 2040 according to the EIA as the first chart shows. Solar energy will grow at a fast rate but from a very low base, as is shown in the second chart. It looks to me as if my grandchildren will reach retirement before they inhabit a world in which solar is the dominant source of energy. Although we invest for the long term, that's too far out even for us to incorporate into our thinking.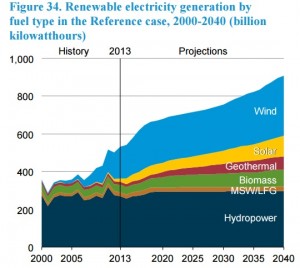 Low prices for crude oil and natural gas have also created challenges across many industries beyond their own. For example, the economics of renewables, including solar, have suffered from cheaper competing fossil fuels. SunEdison (SUNE) is close to bankruptcy as it grapples with this problem. Banking hasn't been immune —  JPMorgan, Wells Fargo and Bank of America all reported higher loan loss reserves against their energy portfolios last week. And last October, somewhat improbably, United Airlines blamed a disappointing quarter on fewer corporate executives flying to visit oil fields; most would think cheaper fuel is good for airlines.
Although last week saw the bankruptcy of the biggest miner of "old" fuel in Peabody and the pending demise of a champion of new energy in SunEdison, Tallgrass Energy (TEP) had a good week. This Master Limited Partnership (MLP) provides natural gas transportation and storage services in the Rockies and Midwest through their Tallgrass and Trailblazer systems. TEP has a publicly traded General Partner (GP) called Tallgrass Energy GP (TEGP), which runs TEP. As is invariably the case, management is invested in TEGP rather than TEP. If you want to invest alongside management in an MLP it usually pays to own the GP instead. In the case of TEGP and TEP, management insiders have around $1.9BN invested in the GP and only 18MM in TEP itself, a difference of 101X. They obviously have an opinion about the relative merits of these two securities. Last week, TEGP raised its quarterly distribution by 21.4% compared to the previous quarter. Not every part of the energy sector is struggling.
We are invested in TEGP
Important Disclosures
The information provided is for informational purposes only and investors should determine for themselves whether a particular service, security or product is suitable for their investment needs. The information contained herein is not complete, may not be current, is subject to change, and is subject to, and qualified in its entirety by, the more complete disclosures, risk factors and other terms that are contained in the disclosure, prospectus, and offering. Certain information herein has been obtained from third party sources and, although believed to be reliable, has not been independently verified and its accuracy or completeness cannot be guaranteed. No representation is made with respect to the accuracy, completeness or timeliness of this information. Nothing provided on this site constitutes tax advice. Individuals should seek the advice of their own tax advisor for specific information regarding tax consequences of investments. Investments in securities entail risk and are not suitable for all investors. This site is not a recommendation nor an offer to sell (or solicitation of an offer to buy) securities in the United States or in any other jurisdiction.
References to indexes and benchmarks are hypothetical illustrations of aggregate returns and do not reflect the performance of any actual investment. Investors cannot invest in an index and do not reflect the deduction of the advisor's fees or other trading expenses. There can be no assurance that current investments will be profitable. Actual realized returns will depend on, among other factors, the value of assets and market conditions at the time of disposition, any related transaction costs, and the timing of the purchase. Indexes and benchmarks may not directly correlate or only partially relate to portfolios managed by SL Advisors as they have different underlying investments and may use different strategies or have different objectives than portfolios managed by SL Advisors (e.g. The Alerian index is a group MLP securities in the oil and gas industries. Portfolios may not include the same investments that are included in the Alerian Index. The S & P Index does not directly relate to investment strategies managed by SL Advisers.)
This site may contain forward-looking statements relating to the objectives, opportunities, and the future performance of the U.S. market generally. Forward-looking statements may be identified by the use of such words as; "believe," "expect," "anticipate," "should," "planned," "estimated," "potential" and other similar terms. Examples of forward-looking statements include, but are not limited to, estimates with respect to financial condition, results of operations, and success or lack of success of any particular investment strategy. All are subject to various factors, including, but not limited to general and local economic conditions, changing levels of competition within certain industries and markets, changes in interest rates, changes in legislation or regulation, and other economic, competitive, governmental, regulatory and technological factors affecting a portfolio's operations that could cause actual results to differ materially from projected results. Such statements are forward-looking in nature and involves a number of known and unknown risks, uncertainties and other factors, and accordingly, actual results may differ materially from those reflected or contemplated in such forward-looking statements. Prospective investors are cautioned not to place undue reliance on any forward-looking statements or examples. None of SL Advisors LLC or any of its affiliates or principals nor any other individual or entity assumes any obligation to update any forward-looking statements as a result of new information, subsequent events or any other circumstances. All statements made herein speak only as of the date that they were made. r
Certain hyperlinks or referenced websites on the Site, if any, are for your convenience and forward you to third parties' websites, which generally are recognized by their top level domain name. Any descriptions of, references to, or links to other products, publications or services does not constitute an endorsement, authorization, sponsorship by or affiliation with SL Advisors LLC with respect to any linked site or its sponsor, unless expressly stated by SL Advisors LLC. Any such information, products or sites have not necessarily been reviewed by SL Advisors LLC and are provided or maintained by third parties over whom SL Advisors LLC exercise no control. SL Advisors LLC expressly disclaim any responsibility for the content, the accuracy of the information, and/or quality of products or services provided by or advertised on these third-party sites.
All investment strategies have the potential for profit or loss. Different types of investments involve varying degrees of risk, and there can be no assurance that any specific investment will be suitable or profitable for a client's investment portfolio.
Past performance of the American Energy Independence Index is not indicative of future returns.
https://sl-advisors.com/wp-content/uploads/2013/04/logo1.jpg
0
0
Simon Lack
https://sl-advisors.com/wp-content/uploads/2013/04/logo1.jpg
Simon Lack
2016-04-17 07:00:46
2016-04-17 07:00:46
Energy's Winners and Losers